Frequently Asked Questions
What brand of paint do you use? What do you recommend for a beginner to buy?
---
I use Golden Heavy Body Acrylics and Liquitex Professional Heavy Body Acrylics in my painting videos. Liquitex has a student level paint called Liquitex Basics that I recommend if you are just starting out. You can try out the different colors and then replace them with the more expensive, professional quality paints later. See my list of recommended acrylic painting supplies at: www.amazon.com/shop/angelafineart
---
What colors do you use in your paintings?
---
My most frequently used colors are: *Quinacridone Magenta Cadmium Red Medium *Cadmium Red Light Quinacridone Burnt Orange Cadmium Orange Indian Yellow Hue *Cadmium Yellow Medium Cadmium Yellow Light *Phthalo Green (Yellow Shade) Teal Turquios (Phthalo) *Phthalo Blue (Green Shade) *Ultramarine Blue Dioxazine Purple *Burnt Sienna *Burnt Umber *Carbon Black *Titanium White Unbleached Titanium (Liquitex brand) Zinc White * Basic Palette In the example photo above you can see how the mixed colors compare to other colors I commonly use in tutorials. Those 8 colors can be used to blend a palette that will cover most of your painting needs.
See my complete list of Acrylic Painting Supplies on Amazon.

Colors to Buy First: Titanium White Carbon Black Quinacridone Magenta Cadmium Red Light (or Pyrrole Orange) Cadmium Yellow Medium (or Hansa Yellow Medium) Phthalo Blue - Green Shade Burnt Sienna Yellow Oxide
Colors to Buy Next: Ultramarine Blue Burnt Umber Cadmium Red Medium (or Pyrrole Red) Cadmium Orange Dioxazine Purple Phthalo Green - Yellow Shade Unbleached Titanium (or Titan Buff) Cadmium Yellow Light
---
What is your video schedule?
---
We do free, live acrylic painting tutorials on Tuesdays @ 6pm CT and Saturdays @ 2pm CT on YouTube at www.youtube.com/user/angelafineart I also do special Crowdcast live tutorials on Thursdays @ 3pm CT for my Patreon Facebook group for $10 (or higher) level members. Join at www.patreon.com/angelafineart We do a Bonus Patreon Video once a month for our $5 (or higher) level members. It is usually the second Sunday of the month but times vary. Check our patreon page for more information.
---
What brushes do you recommend?
---
I have a recommended brushes list at The Brush Guys: http://bit.ly/recommendedbrushes Use the code "angelafineart" to get 5% off. My favorite brand is Princeton.
Their 6100 series is long handled and very durable. The VevetTouch series is short handled and great for detail work. The Select series is economical and great for beginners.
---
Paint is not adhering to my canvas. What is wrong?
---
If the paint is not sticking to the canvas there can be a few reasons. 1. Low paint quality. If you are using a lower quality paint sometimes the binder in it is not as strong. Try adding some gel medium. 2. Too much water. If you add too much water to a good quality, heavy body acrylic it will underbind to the canvas. 3. Not allowing the layers to dry. Once the paint gets tacky that means the drying process has started and you need to stop and let it dry completely before adding more paint. The paint will stick to your brush and come off the canvas if you try to add more paint while the under-layer is drying. 4. Adding water to a wet canvas. Similar to the last two problems combined. If you put fresh paint onto your canvas and then dunk your brush in water and add water directly onto the canvas to blend the colors it will lift off the paint. Basically you are washing the canvas. It can be helpful if you have made a mistake you want to remove before the paint dries. But adding too much water on top of fresh paint will underbind it.
---
How do I find your Patreon content, like traceables and high resolution reference photos?
---
If there is a specific traceable you are searching for, you can find it on the main posts section of our Patreon by clicking the posts tab. Just above the first post will be a search box - do not use the search icon in the upper corner, it is for finding creators not posts!

High resolution reference photos and finished paintings can be found on our Patreon page as well. If you join our $5 or higher level, you'll get access to these for each painting that we do, plus access to the month's Bonus Video Tutorial and all of our past Bonus Video Tutorials!

Our $10 level has a special Facebook Group called Art Taking Flight, where we can help answer any questions you might have. Also, for this level we do weekly Challenge Tutorials that dive deeper into the process of a special painting we'll choose each month.

If you'd like to join, you can head to this page on Patreon!
---
HELP! I can't figure out how to use traceables.
---
1. Find the traceable you want by searching the title/subject of the video (from computer or tablet) either my traceables page on my website www.thankfulart.com or my posts page on Patreon. www.patreon.com/angelafineart 2. Click on the .jpg attachment at the bottom of the Patreon traceable post to download it to your device. 3.Find your downloads folder (or whichever folder you have selected for downloads) on your device and open the image in your chosen photo program or app. If you need to upsize the image for a large canvas use www.rasterbator.net to do that. 4. Select "print" and when your print preview page opens go to "printer settings" or whatever program your particular printer has. 5. Select "borderless" printing and "fit to page", if desired. Select the size of the print (8"x10" etc) and PRINT. 6. Trace the printed image onto tracing paper (or use the paper image if desired). Place image onto canvas and use transfer paper (Saral brand or graphite) to trace the design onto the canvas using a pencil or metal stylus. I show how in this video.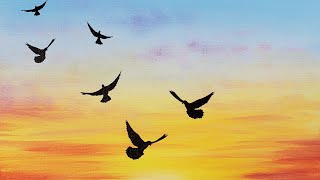 7. Paint away! You can transfer the designs multiple times as you work to add more details, if desired. Hope that helps!
---
Where can I find past Patreon exclusive tutorials?
---
Most of our previous Patreon exclusive tutorials can be found on our Crowdcast page at this link! - https://www.crowdcast.io/angelasartistry

However, some exclusive tutorials were created before we started using Crowdcast. You can find those tutorials at the "Exclusive Tutorials" page here on our website! - https://www.thankfulart.com/exclusive-tutorials - If you're looking for a specific tutorial from this time period, simply find your tier on our exclusive tutorials page, and scroll through the tutorials until you find painting you're looking for! :)
---
Paint keeps drying up on my color plate before I can use it all! How can I fix this?
---
1 - Use more paint 2 - Draw from onbe side of paint puddle only 3 - No fans/outdoor wind, etc. 4 - High humidity in the room 5 - Mild temperature (not too hot or cold) 6 - SPRAY OFTEN 7 - Non-porous palette (not paper)
---
How do I find posts on Patreon, or edit/cancel my membership?
---
HOW TO FIND & USE TRACEABLES
• Go to my main posts section on Patreon and click the posts tab. Just above the first post will be a search box - do not use the search icon in the upper corner, it is for finding creators not posts.
• Use the most common word from the video title to search (Rose, giraffe, butterfly, etc). Then scroll down through the results to find the post, they will display newest posts first. I find it works best on web browsers (not the app).
• Make sure the video is from 2017-present. If it is older than 2017 it may not have a traceable. You can search for "old traceables" to find the mass post with all of them attached.

HOW TO EDIT OR CANCEL MEMBERSHIP
• Google "how to cancel patreon" or go to this article in the Patreon help center for detailed instruction.
• Find your "manage memberships" section of your patreon account and edit from there.
• Please do not ask me to cancel or edit your pledge. I literally CAN NOT change your pledge or cancel your account. I do not have access to patron accounts - just like I don't have access to your YouTube account to subscribe you to my channel or your Facebook account to make you "like" my page or posts. 🙃
• Patreon is not my website. I use it to post and make resources available to my patrons but I am a user just like you and can not change your account or pledge in any way. All I can see is what you have paid me, your current pledge and contact info.

HOW TO FIND LINKS TO PATREON-EXCLUSIVE VIDEOS
• Go to my website exclusive tutorials page. To find all of the available videos. They will link back to the Patreon posts. You may have to login to your Patreon account again to view them.
• If you know the title you can search for it using the posts search box (explained in the traceables section above).
• Some videos were recorded live in the Facebook Art Taking Flight group for $10 members and can only be accessed there.
• Some "bonus video" links are unlisted and will take you to YouTube to watch. Please do not share those links, they are not public.
• Crowdcast links will require you to login to your Patreon account to watch them. A current Patreon pledge (of $5 for bonus videos and $10+ for challenge videos) is required. If your Patreon account has lapsed it will not allow access to watch. BE SURE TO USE THE SAME EMAIL AS YOUR PATREON ACCOUNT ON CROWDCAST. You do not have to pay to create a Crowdcast account to watch my videosthere.
• If you have any problems viewing the videos please contact Crowdcast and/or Patreon help desks. As much as I would like to help, I just don't know how to fix all the differenttechnical issues that can arise. Please ask the experts. 😀
---
---